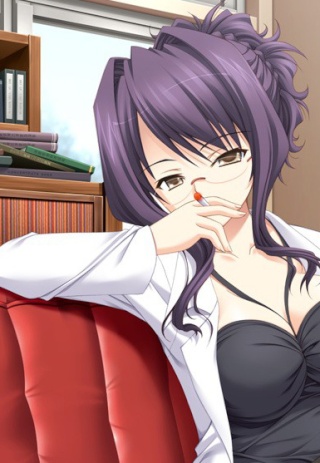 Application of OKAZAKI, CHIHARA*
Identity.
Name: Chihara Kazari Okazaki
Gender: Female
Day of Birth: September 17th
Age: 22
Height: 5'6"
Weight: 119 lb
Class: Sensei of 1A
Persona.
Casual Appearance: Okazaki was describe to hold a very professional statue and look. She is usually seen wearing a reasonable length pencil skirt, a black camisole, red high heels, accompanied by a long white lab coat. Due to her terrible eye-sight and slight fear of putting on contacts, she is usually seen wearing a pair of thin oval-framed glasses. Behind those frames are a pair of clear, dull bronze or golden eyes. In contrast, Okazaki was born with dark orchid-colored naturally wavy hair. Currently, it reaches about half-way down her back however, she prefers to put it up into a messy but detailed bun. Finally and not least is her almost perfect complexion. Okazaki was born with clear lily white skin however, her cheeks are tinted pink and whenever the weather gets too hot or she is embarrassed, her cheeks turn a dark brick red.
Personality: Okazaki holds a very calm and nonchalant persona, or so it seems at first. She has a hard time opening up her true self however, towards colleagues and friends (such as Mizune Shinase), she likes to show her true colors more. As a child, she was considered very mischievous but showed it in a very indifferent way. She enjoys teasing her students and sometimes, shes even called as immature as them. Okazaki has a very introspective side to her. She feels a lot of empathy towards people however, has a very hard time showing empathy or sympathy. Okazaki also has a gift for reading her surrounds however, she tends to ignore some that may cause her to tip her emotions. A strange but ironic part about Okazaki is that shes very health conscious however, she tends to light a cigarette once in awhile and excessively drink when her mood is down.
Likes: Reading, Afternoon naps, Homemade Bento lunches
Dislikes: Common Prejudices, Strict teaching methods
Fears: Getting to close to people
Background.
Family: Kakeru Okazaki (Father), Yukito Okazaki (Brother)
Hometown: Saitama, Japan
Past:
Spoiler:
Additional Notes: Ironically, she started to pick up on smoking and drinking to remember her family in an odd and morbid way however, she does it unconsciously.
Doesn't like being called Chihara. Either Okazaki-sensei or "Hara".
Who did you PM?: Mizune Shinase
© Mizune Shinase on OuranHS.darkbb.com